Study of the psychological characteristics associated with confinement
Our research group Labpsitec, from the University of Valencia, is interested in studying the psychological characteristics that contribute to a better management of the COVID-19 quarantine. Therefore, we are developing a number of studies to understand  better the psychological functioning in this extraordinary situation.
Variables psicológicas protectoras durante la cuarentena del COVID-19
Resources
Labpsitec in collaboration with the University of Valencia is developing a series of recommendations and suggestions to address this extraordinary situation caused by the coronavirus.
PS
YCHEDUCATION:
Accepting my emotions. Does accepting your emotions change the meaning you would now give to anxiety in any way? How? How do you define anxiety?
A
CCEPTING OUR EMOTIONS.
At the end of the page you will find a link to a relaxation exercise
LEARN TO FOCUS ON WHAT YOU CAN CONTROL.
What things do you think we can and cannot control? What are you trying to do with the things you don't control, in order to feel better?
IDENTIFYING MY EMOTIONAL REACTIONS
EMOCIONALES
 .How about trying to start identifying your thoughts, emotions, and reactions?
COGNITIVE FLEXIBILITY
What are the things that you do now in an innovative or novel way?
IDENTIFYING MY EMOTIONAL
REACTIONS
  How about trying to start identifying your thoughts, emotions, and reactions?
OUR SOCIAL RELATIONS.
In this case we talk about how to maintain our social relationships
OUR PHYSIOLOGICAL SYSTEM
Have you noticed that some situations during the lockdown trigger your physiological alert system? What resources are helpful to calm it down?
WORKING FROM HOME
Working from home during the lockdown is challenging for many people. What strategies do you use to optimize the workday from home?
ADJUST YOUR EXPECTATIONS.
In this case we talk about how to adjust our expectations during the lockdown
A SPACE TO TAKE CARE OF MYSELF 
Learning to treat yourself with kindness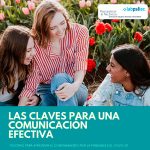 THE KEYS TO EFFECTIVE COMMUNICATION
Cuáles son las
What are the 7Cs of communication
INTOLERANCE WHEN DISCOMFORT?
In these moments of physical lockdown we feel bad and we don't know why. Discomfort intolerance is often the answer
FULL ATTENTION AT THE PRESENT MOMENT
Here we talk about mindfulness & being in the present moment.
IMPROVING OUR PROSOCIAL BEHAVIOR
Here we talk about different types of prosocial behaviors and the different benefits they can bring to you and to others.
LAS FORTALEZAS PERSONALES  Las fortalezas son aquellas características personales que nos ayudan a construir una vida plena y con significado.
CULTIVANDO LA GRATITUD
En este caso, la píldora habla de cómo cultivar la gratitud. Aquí te proponemos un ejercicio para cultivarla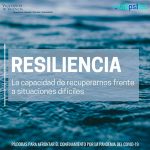 RESILIENCIA FRENTE A SITUACIONES DIFÍCILES En esta píldora te ayudamos a identificar tus propios recursos  para afrontar eventos difíciles